---
RUSI's Cyber Research Group leads briefing to the White House's International Counter Ransomware Initiative (CRI)
8 November 20233 Minute Read
---
Last week, the Director of RUSI's Cyber Research Group James Sullivan presented the team's findings and recommendations on cyber insurance and the ransomware challenge to a collective of 50 nations and international organisations.
The third convening of the CRI in Washington DC brought together like-minded partners, private sector participants, and capacity-building experts to further reshape the cyber environment so members are better equipped to combat the scourge of ransomware.
Drawing on the Institute's recent paper, Cyber Insurance and the Ransomware Challenge, James outlined the growing challenges posed by ransomware, the role of cyber insurance, as well as a number of policy recommendations to disrupt the ransomware ecosystem. The paper was authored by James and RUSI colleagues Jamie MacColl and Dr Gareth Mott, as well as Dr Jason R. C. Nurse (University of Kent), Sarah Turner (University of Kent), Professor Edward Cartwright (De Montfort University Leicester) and Dr Anna Cartwright (Oxford Brookes University).
The briefing and report forms part of RUSI's wider research on ransomware. The associated Ransomware Harms and the Victim Experience project examines the negative impacts of ransomware on victims, economies and societies and comprises two new research papers to be released in early 2024. The research will provide a greater understanding of the harms created by ransomware and how victims are supported by government, law enforcement and society following an incident.
Commenting on his contribution to the Counter Ransomware Initiative, James Sullivan, Director of RUSI's Cyber Research Group, said:
"Today, ransomware represents an immediate threat to national security and economic prosperity, both to the UK and other nations. Forums such as the CRI provide a critical means through which experts and policymakers can develop a shared understanding of the threat and how we can effectively address it. It was a privilege to be able to present our research to the CRI to help tackle the scourge of ransomware."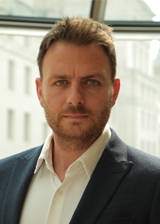 James Sullivan
Director, Cyber Research
About the Counter Ransomware Initiative
The 50 members of the International Counter Ransomware Initiative (CRI)—Albania, Australia, Austria, Belgium, Brazil, Bulgaria, Canada, Colombia, Costa Rica, Croatia, the Czech Republic, the Dominican Republic, Egypt, Estonia, the European Union, France, Germany, Greece, India, INTERPOL, Ireland, Israel, Italy, Japan, Jordan, Kenya, Lithuania, Mexico, the Netherlands, New Zealand, Nigeria, Norway, Papua New Guinea, Poland, Portugal, the Republic of Korea, Romania, Rwanda, Sierra Leone, Singapore, Slovakia, South Africa, Spain, Sweden, Switzerland, Ukraine, the United Arab Emirates, the United Kingdom, the United States, and Uruguay—met in Washington, D.C. on October 31–-November 1, 2023 for the third convening of the CRI. Previously participating states welcomed Albania, Colombia, Costa Rica, Egypt, Greece, INTERPOL, Jordan, Papua New Guinea, Portugal, Rwanda, Sierra Leone, Slovakia, and Uruguay as new CRI members.
About RUSI's Cyber Research Group
RUSI's Cyber research group takes a global approach to its research, examining UK and international cyber public policy issues. Our research agenda is structured around the following themes: cyber strategy, cyber resilience, cyber threats and offensive cyber. The team pursues different aspects of these themes, depending upon policy priorities at any given time.
We take what can sometimes be a complex and technical subject and aim to communicate it in plain language, for non-technical audiences. Our programme of work informs and enriches cyber policy approaches by developing a strong evidence base that is available to policymakers and practitioners.
Current research projects examine global perceptions of responsible cyber behaviour, the threat from ransomware, offensive cyber operations, commercial cyber proliferation, and understanding the impact of disruptive technologies, such as AI, on societies.
---
Footnotes