---
RUSI Launches New Energy Security Research Project
Dan Marks
8 February 20231 Minute Read
---
The UK is currently facing multiple inter-connected energy security challenges that will test its resilience.
As an independent think tank focused on UK defence, security and international affairs, in 2023 RUSI will be analysing the risks relating to fossil fuel reliance and securing the net zero transition. 
RUSI will also be proposing policy options on domestic and geopolitical energy security challenges and publishing new papers on five main topics:
Decarbonisation of steel
Risks relating to reliance on imports of Middle East and Russian hydrocarbons 
Improving energy security through the energy transition
 The role of China in net zero supply chains 
Wider net zero supply chain risks

This project is funded by the European Climate Foundation (ECF) and will be led by Dan Marks, a Research Fellow focused on the national security dimensions of the energy transition in the United Kingdom and internationally, with support from experts across RUSI. 
The project's first paper on how the collapse of the domestic steel industry would be damaging for national security and how to manage risks arising from decarbonisation of the sector will be published in early March.
Energy security has re-emerged as a critical issue demanding attention from governments around the world as they grapple with supply challenges and the accelerating energy transition. The nature of the risks in the energy sector policymakers must contend with is shifting and new security paradigms are needed to manage them. This project will examine these risks and how the UK can respond.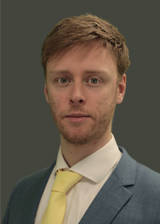 Dan Marks
Research Fellow for Energy Security

UK National Security and the Net Zero Transition
This project investigates the impact of net zero technologies on UK national security through their impact on hydrocarbons reliance and emerging technology supply chains.

Energy Security Programme
This theme focuses on the national, geopolitical and environmental security risks of fossil fuel reliance and solutions for securing clean energy globally.
---
---
Footnotes