---
North Korea's Oil Terminals Come Back to Life as Imports Breach UNSC Cap
Joe Byrne,
James Byrne and
Dr Giangiuseppe Pili
10 December 20215 Minute Read
---
Main Image Credit North Korea's Nampo Port. Courtesy of Planet Labs, RUSI Project Sandstone
---
Evidence analysed by RUSI's Project Sandstone shows that North Korea's oil imports have ramped up recently, likely surpassing a cap imposed by the UNSC.
Deliveries to North Korea's oil terminals have accelerated in recent months, after lockdown measures shuttered the country's ports and closed its borders for extended periods in 2020 and 2021.
However, an analysis of satellite imagery and open-source evidence by RUSI's Project Sandstone indicates that deliveries to Nampo – the country's main port – between May and November have likely breached the annual petroleum import-cap first imposed by the United Nations Security Council (UNSC) in 2017.
Figure 1: Assessed deliveries at Nampo Port, North Korea from January to November 2021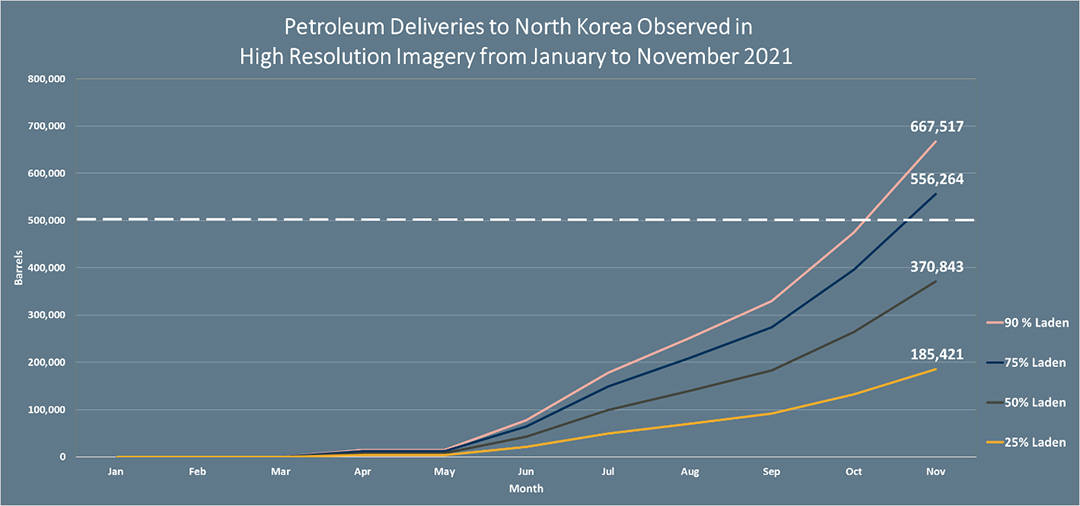 Credit

Maxar Technologies, Airbus Defence and Space, Planet Labs, RUSI Project Sandstone
Project Sandstone identified at least 23 different vessels making 36 separate deliveries across 45 high and low-resolution images. Together, these would have accounted for approximately 670,000 barrels of delivered petroleum products, if the tankers were assumed to be 90% laden on arrival.
Even at 75% laden, these deliveries would breach the UNSC-mandated cap of 500,000 barrels. In fact, vessels delivering to the North Korean port of Nampo often appear to be heavily laden while arriving at the oil terminal.
Figure 2: Imagery of vessels delivering at the Nampo Oil Terminal from January to November 2021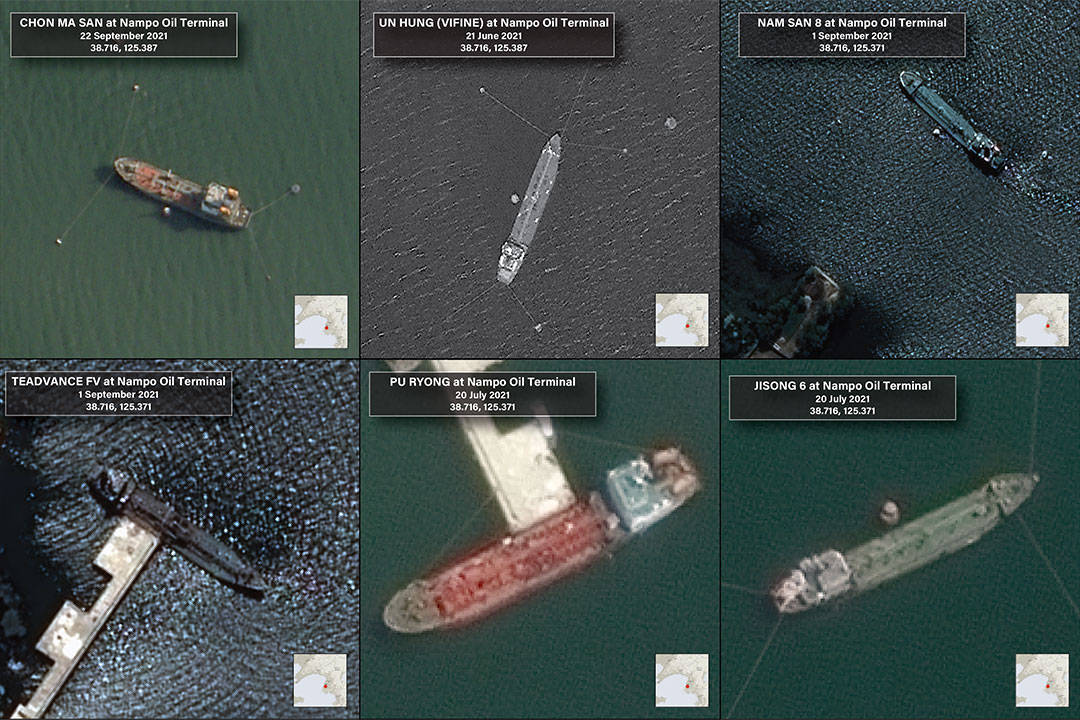 Credit

Maxar Technologies, Airbus Defence and Space, Planet Labs, RUSI Project Sandstone
This method was first outlined in RUSI's report Black Gold – published in March 2021 – and relies on both high, medium and low-resolution imagery to identify and count deliveries into dedicated oil facilities at the port.
Vessels themselves were identified using standard imagery analysis techniques and Project Sandstone's imagery database. These vessels were then cross-referenced with other open-source data points held on maritime databases to assess their deadweight tonnages and cargo capacities.
Despite the recent uptick in deliveries, oil import volumes have decreased significantly year-on-year, with 2021 annual volumes down approximately 75% on estimates from last year. Such a precipitous drop in petroleum imports is likely to have had a significant impact on the North Korean economy, which has faced growing headwinds since the beginning of the pandemic.
Notably, the modus operandi of the deliveries to North Korea has also changed drastically, most likely due to COVID-related measures imposed at North Korean ports.
Figure 3: Deliveries of North Korean-flagged vessels observed at Nampo Port in 2021 in high-resolution imagery (blue), medium-resolution imagery (khaki) and low-resolution imagery (red)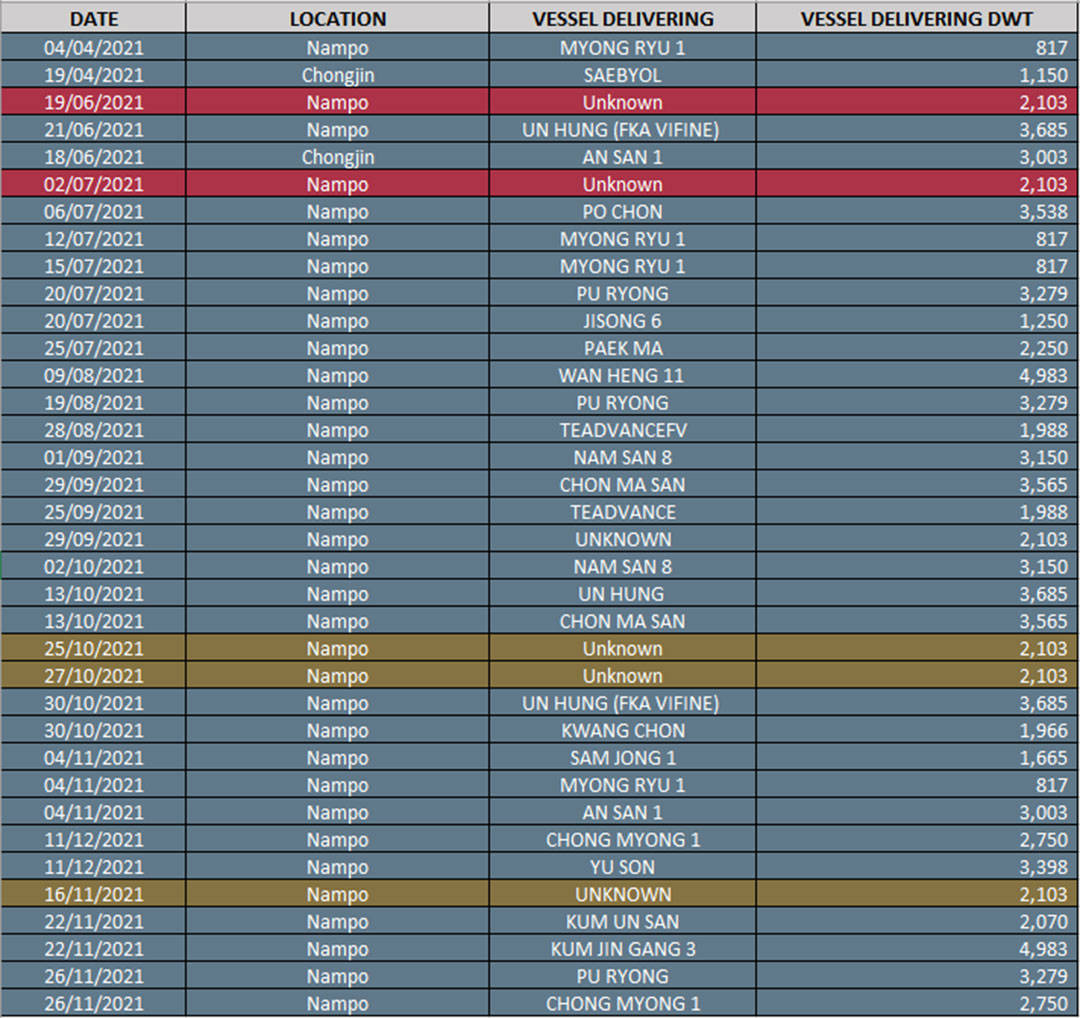 Credit

Maxar Technologies, Airbus Defence and Space, Planet Labs, RUSI Project Sandstone
Changing Tactics
Lacking any domestic reserves and with little operational refinery infrastructure, petroleum products such as diesel and gasoline remain critical for the country's military, transport infrastructure and agricultural industries. However, ongoing port restrictions and border controls continue to stymie North Korea's trade flows, impeding both the export of sanctioned revenue-generating exports such as coal and critical imports such as petroleum, foodstuffs and fertilisers.
Despite this, the significant recent uptick in petroleum deliveries underscores North Korea's ongoing ability to skirt multilateral and unilateral sanctions regimes to procure oil from the international market. To do so, North Korea has also adapted its modus operandi, shifting tactics to account for its strict port measures while making deliveries by foreign-flagged tankers more difficult to track by conducting them in the open ocean away from port.
A striking feature of recent petroleum deliveries to North Korea has been the absence of any foreign-flagged tankers entering or visiting Nampo. These appear to have either been prohibited from entering the port or refrained from doing so for other reasons. Instead, all the deliveries tracked by Project Sandstone into the port of Nampo have been made by North Korean-flagged vessels.
These appear to undergo quarantine outside the West Sea Barrage before entering the port to unload cargo, significantly slowing delivery cycles and likely further impacting North Korean trade flows.
The significant recent uptick in petroleum deliveries underscores North Korea's ongoing ability to skirt sanctions regimes to procure oil from the international market
These tankers also appear to be procuring oil from a number of foreign-flagged vessels previously identified by Project Sandstone and the UN Panel of Experts as having made deliveries to the country in recent years.
Possible Procurement Chain
One of these is the DIAMOND 8 (IMO 9132612), which was first identified delivering petroleum to North Korea in September 2019. Despite being idled between August 2020 and June 2021, the DIAMOND 8 appears to be back in service shuttling oil to North Korean waters after likely procuring it in Chinese waters and in the Taiwan Strait.
Deliveries, however, appear to be occurring at a significant distance from Nampo but within North Korea's Exclusive Economic Zone. To move this oil into the country, North Korean-flagged tankers appear to be sailing out to pre-arranged locations to meet these delivery tankers. Here, they conduct ship-to-ship (STS) transfers before moving the oil into port.
In August 2021, for example, Planet Labs satellite imagery tasked by RUSI captured the DIAMOND 8 conducting an STS transfer with the CHON MA SAN (IMO 8660313), a North Korean-flagged tanker sanctioned by the UN in March 2018.
Figure 4: The unknown-flagged DIAMOND 8 conducting an STS transfer with the UN-designated CHON MA SAN in August 2021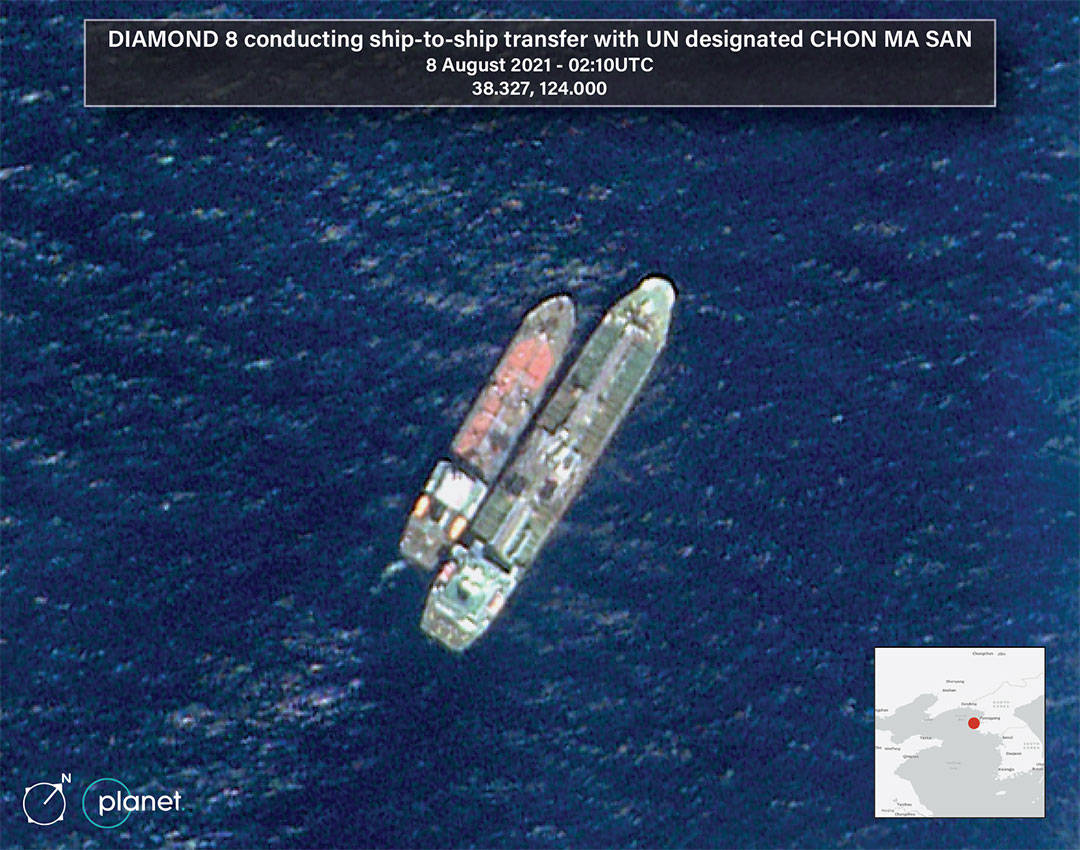 Credit

Planet Labs, RUSI Project Sandstone
Transfers in the open ocean – such as the one between the DIAMOND 8 and the CHON MA SAN – make tracking North Korean petroleum imports more difficult.
Figure 5: Possible CHON MA SAN procurement chain, August and September 2021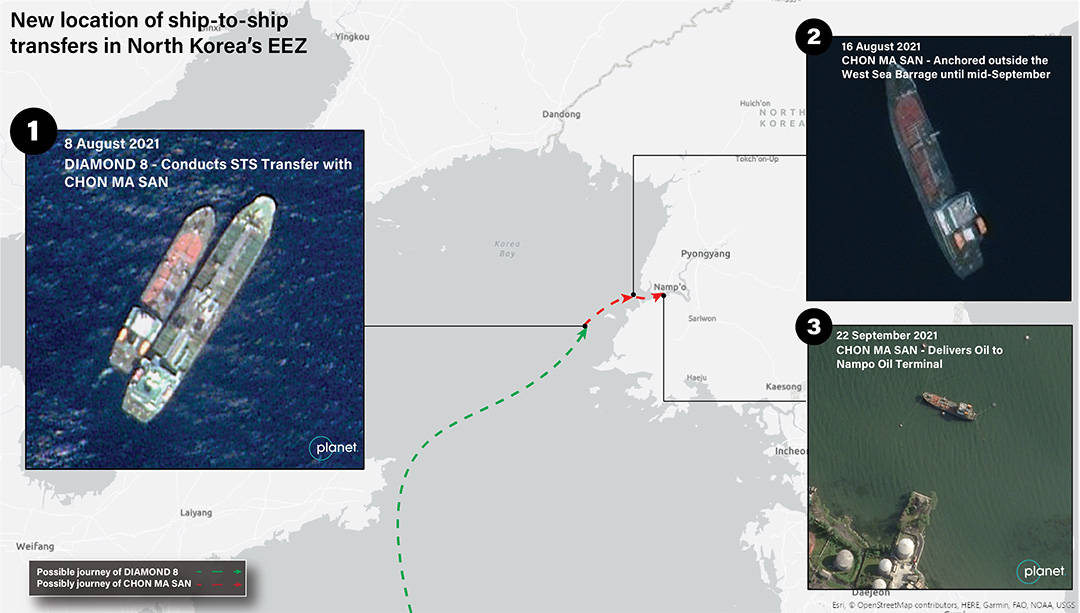 Credit

Planet Labs, Maxar Technologies, RUSI Project Sandstone
Developments at Oil Facilities
Despite the oil sanctions, North Korea has continued to expand its import terminals, recently completing and commissioning an entirely new terminal at Nampo. Imagery tasked over 2021 shows vessels now using this terminal, indicating it has become operational.
Figure 6: Oil import infrastructure development at Nampo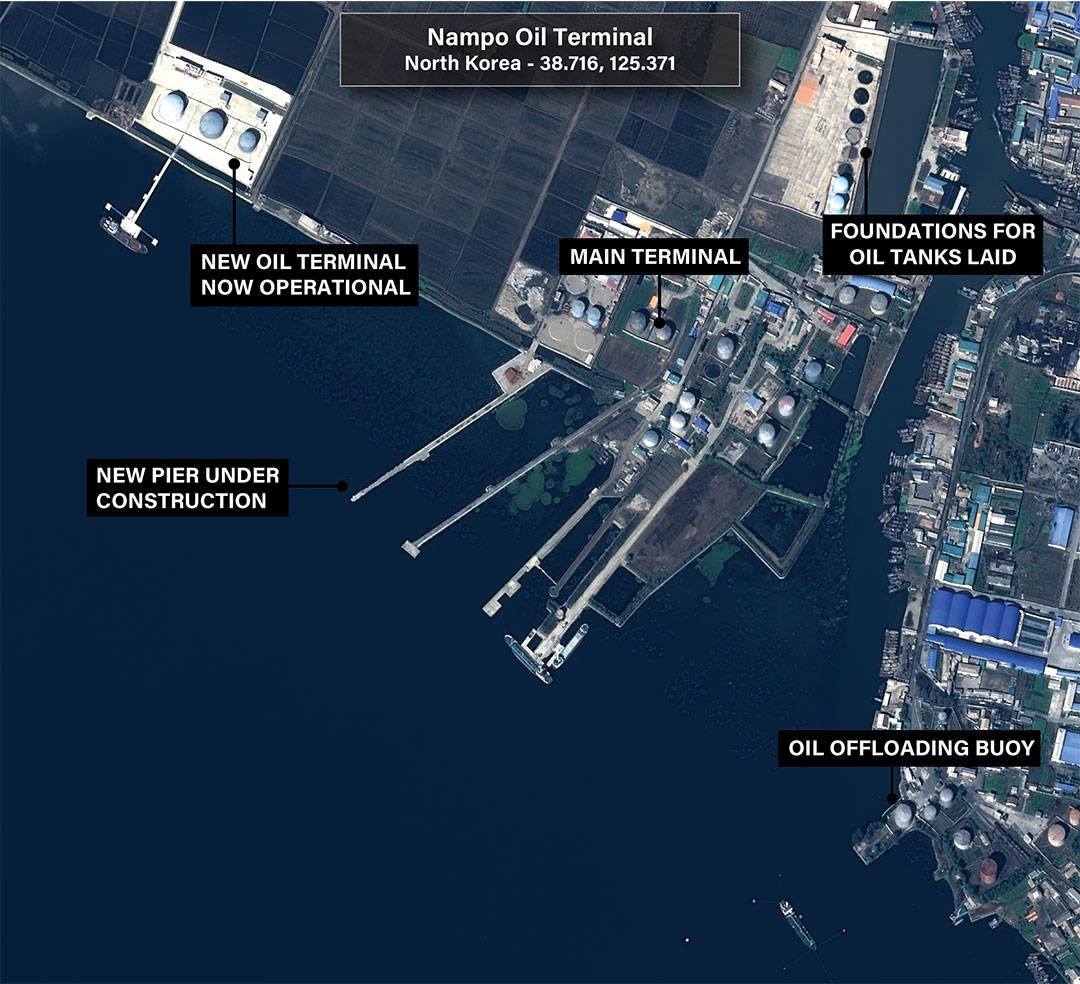 Credit

Maxar Technologies, Airbus Defence and Space, RUSI Project Sandstone
Slow Motion
With strict border controls and shoot-to-kill orders apparently in force for those attempting to cross, North Korea's draconian COVID measures have visibly impacted trade and even the country's ability to import critical commodities such as petroleum.
These now appear to be moving into the country, although the pace of delivery has apparently been significantly slowed by both the quarantine and a possible prohibition on foreign ships visiting North Korean ports.
How this will impact North Korea's economy in the long run remains unclear, although there are growing concerns about an impending famine and humanitarian catastrophe. But with less petroleum coming into the country and temperatures already plummeting, there is little doubt that North Korea faces a bleak winter.
The views expressed in this Commentary are the authors', and do not represent those of RUSI or any other institution.
Have an idea for a Commentary you'd like to write for us? Send a short pitch to commentaries@rusi.org and we'll get back to you if it fits into our research interests. Full guidelines for contributors can be found here.
---
---
Footnotes