---
Libya as Prologue: The Uncertain Future of UN Sanctions in a Divided World
Amanda Kadlec and
Cathy Haenlein
8 June 20239 Minute Read
---
Main Image Credit Increasingly at loggerheads: the UN Security Council holds a debate on sanctions. Image: US Department of State / Wikimedia Commons
---
This is the second article in a two-part series on the effectiveness of UN Security Council sanctions in Libya, and what this might portend for sanctions use in a rapidly changing, multipolar world.
As Russia wraps up its presidency of the UN Security Council, the capacity of UN sanctions to support peace in today's multipolar world remains in doubt. Indeed, the polarisation evident in dynamics among the five permanent members (P5) – China, France, Russia, the US and the UK – risks marking 'the end of international sanctions' as an effective deterrent. Crucially, in fragile and conflict-affected states such as Libya, it is increasingly evident that the kind of unity within the UN required for the unanimous approval of targeted sanctions measures may be a thing of the past. In Libya, as elsewhere, key questions arise as to how UN sanctions can remain meaningful in a fast-changing global environment where the powers issuing and enforcing them are at loggerheads.
International Inconsistency
A key feature of the failure of UN sanctions in Libya – in addition to a lack of domestic will – has been the involvement of multiple international actors whose interests have served to interfere with the sanctions process. This has been the case despite the fact that UN sanctions in Libya in the post-Qaddafi period have at times been used innovatively, as explored in the first article in this series. Libya, for example, saw the first-ever use of UN sanctions against individuals with a leading role in migrant smuggling and human trafficking. These measures were considered a promising precedent in the fight against the profiteers of trans-Mediterranean migration – a primary concern of European countries overwhelmed by the influx.
Yet while those involved in migrant smuggling and human trafficking have been targeted, armed group commanders and warlords legitimised by foreign governments have often flagrantly violated arms embargoes, pilfered billions from the state, and overseen systematic murder and revenge killing, as seen in Tarhuna. They have escaped meaningful sanction in large part due to their place in an intricate network of domestic and international relationships that have played a key role in determining Libya's current direction. This reality has served to limit the will to investigate key individuals or present them to the Security Council for a vote – particularly in cases where they are certain to be eliminated from consideration. Meanwhile, a perception has developed that even where an individual is formally named, the sanction is easily evadable and without consequence as long as targets are wealthy, well-connected and powerful.
The individual most often referenced in relation to this dynamic is Khalifa Haftar, the self-appointed military commander of Libya's east – although Haftar is only one of a number of actors to have left trails of evidence that would legitimise investigation and sanction. In 2019, Haftar's coalition of armed groups invaded Tripoli without provocation, leading to an 18-month civil conflict – with a raft of evidence of arms embargo violations under his command documented in successive Security Council annual reports. With substantial financial and infrastructural support from the UAE and the involvement of Wagner Group mercenaries backed by Russia (a permanent Security Council member), any investigation of Haftar's sanctionable offences would surely be blocked. As such, despite Haftar being tried for human rights violations on the basis of evidence strong enough for a US civil court to deem him liable (albeit with a lower threshold than required for criminal proceedings), the UN Security Council has – by any measure – failed to hold him to account.
Haftar's evasion is so thorough that he continues to meet with high-level Western diplomats and even registered as a presidential candidate for the country's 2021 elections (although these were not ultimately held). His co-dependent security relationships with P5 countries – namely Russia but also previously France – have cushioned any prospect that he or those around him will face scrutiny. The bilateral relationships of permanent members with third-party states are also relevant, however. The UAE – as the primary financier of Haftar's misadventures – has a deep yet unreliable alliance with the US. To complicate matters further, Haftar initially enjoyed some support among US agencies as a long-time CIA asset during the Qaddafi era.
These dynamics stretch far beyond this highly visible figure, however, and cover multiple actors across Tripoli's armed groups who either serve as high-ranking members of the government or are otherwise intricately connected to it. To give one example, the Special Deterrence Force – a Salafi armed group – has for years served as a respected security provider for the capital. It was this force that detained Hashem Abeidi, brother of the suicide bomber who killed 22 people at a concert in Manchester in 2017, and worked with UK authorities to extradite him. And yet, the group routinely issues arrests and judgements without charge or trial, often on false accusations of terrorism, and faces multiple allegations of torturing detainees. Despite the wealth of evidence that this group is a routine violator of fundamental human rights, as covered in investigations by the UN Security Council and the Office of the UN High Commissioner for Human Rights, it is unlikely that its commanders will ever face a serious attempt to place them under sanction.
The permanent members are prone to using the UN Security Council to further their geostrategic objectives in this time of heightened global power competition
This is due to the fact that they and other armed groups in Tripoli hold value for a number of permanent members as interlocutors willing to meet their strategic needs. Among those needs, as noted previously, is assistance with a migration issue that will not go away. In this context, the focus on sanctioning leaders of human trafficking and migrant smuggling activity in 2018 under listing criteria based on human rights violations was limited to a small number of individuals.
As explored in the first article in this series, sanctions against those individuals have had limited impact and may be viewed as a distraction from concerted action against the deeper source of the problem in Libya. The focus should arguably be on taking bold steps to target those with direct responsibility for the wider instability in the country. Yet, again, a key barrier to redirecting the focus onto the primary makers of instability in Libya is the lack of will on the part of one or multiple foreign players to take that action – because doing so would jeopardise their strategic interests. If one or multiple global competitors established a compelling case for sanctions on the ally of another, that action would be stopped.
Beyond Sanctions: The UN's Wider Role as an Interlocutor
As the Libya example shows, the permanent members are prone to using the Council to further their geostrategic objectives in this time of heightened global power competition. As the Russia–China relationship becomes ever closer and the effectiveness of multilateral sanctions hits its limit, the impact extends directly to other aspects of the UN Security Council's role. This includes peacekeeping operations: as in the case of sanctions regimes, the five permanent members of the Security Council must agree on key actions, such as whether to begin, sustain or end peacekeeping missions – often in locations (such as Libya) where they have strategic interests and are on opposing sides of a conflict.
Notably, the UN Support Mission in Libya (UNSMIL) has repeatedly attempted to foster a political solution to the country's decade-long strife. However, intractable bickering among permanent members and the varying domestic factions they empower has rendered these efforts moot. As such, beyond backing for consecutive technical rollovers of UNSMIL's mandate, maintaining unified political support from permanent members for the mission has been challenging. This has left UNSMIL in the difficult position of having to work to implement its mandate while also managing the conflicting interests of permanent members.
Such dynamics can be seen beyond Libya, and are present across many of the 30 peacekeeping and special political missions hosted by the UN globally. Each of these missions continues to require the approval of a Security Council whose members are at a level of bellicosity that has spilled over into competition in several of these unstable environments.
Beyond Libya, these rifts are pronounced in UN mission areas in parts of francophone Africa where Russia is accused of leading anti-Western information campaigns, such as in Mali. Here, as the country has faced jihadist insurgencies and successive government coups and as France has failed to intervene effectively to halt the violence, this has created an opening for Russian Wagner Group mercenaries. All permanent members unanimously approved the UN stabilisation mission in Mali in 2013. Today, the P5 – split along East versus West lines – are forced to vote on a mission in which their interests diverge.
In Libya, it is clear that the role of the UN as a legitimate interlocutor has passed
Similar dynamics can be seen in the Central African Republic (CAR), where the UN Security Council established a mission in 2014 with the unanimous approval of all five permanent members. Long the domain of former colonial power France, the CAR is now a sought-after source of minerals in the great green energy race among wealthy states. Wagner Group mercenaries now back the government – which is fighting an ethnic insurgency – while Chinese companies extract minerals in the presence of their own private military forces working to protect Chinese nationals and infrastructure.
The Future of the UN in Libya
Yet Libya stands as perhaps the most pronounced example of the implications for third countries of these global power dynamics. In Libya, it is clear that the role of the UN as a legitimate interlocutor has passed.
Most notably, repeated calls have been made for the permanent members to align with their stated positions on Libya, to deconflict their competing national agendas, and to demonstrate cohesion in the interest of the greater good. And yet, considering the current state of relations among the permanent members, the prospects of a unified approach are not strong. In the current rapidly changing multipolar international environment, it is more likely that UN regimes such as the one in Libya will be further jeopardised as the permanent members use the Security Council as a tool to gain one up on their global competitors.
In terms of UN sanctions, specifically, these are likely to continue to lose relevance and the ability to fulfil their intended purpose where permanent members of the Security Council have the power to block whatever measures fail to serve their interests. Russia and China are unlikely to impose restrictions on themselves or their interests in Libya or elsewhere, and the same is true of France, the UK and the US.
Where the UN Security Council fails to find the consensus needed to impose sanctions, it may fall to new sanctions coalitions to ensure that this key tool of international security retains any prospect of achieving meaningful results. Yet here, again, effectiveness will depend on harmonisation of autonomous sanctions regimes and coordination with key regional and other partners. If the past is a predictor of the future, such efforts in the Libyan context – and elsewhere across the African continent – look set to remain elusive.
The views expressed in this Commentary are the author's, and do not represent those of RUSI or any other institution.
Have an idea for a Commentary you'd like to write for us? Send a short pitch to commentaries@rusi.org and we'll get back to you if it fits into our research interests. Full guidelines for contributors can be found here.
Related article
---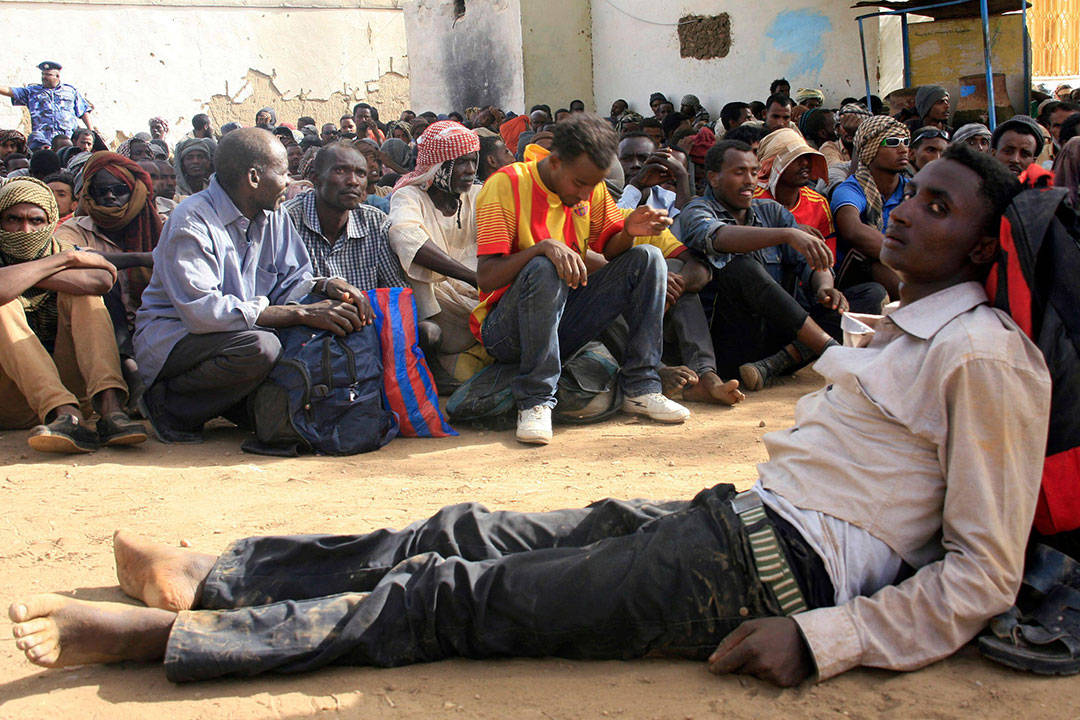 An Unprecedented Failure? UN Sanctions Against Human Traffickers in Libya
---
---
Footnotes