---
Veteranka: Supporting Ukraine's Female Defenders
Jonathan Röders
3 November 20236 Minute Read
---
Main Image Credit Reporting for duty: female servicemembers belonging to Ukraine's 16 Army Aviation Brigade stand to attention. Image: president.gov.ua / Wikimedia Commons / CC BY-SA 4.0 DEED
---
A recent conference held at the London School of Economics and Political Science highlighted the difficulties faced by Ukraine's female servicemembers. Tackling these problems will require improved national policy guidance and coordination, as well as continued international attention and funding.
More than one and a half years into Russia's full-scale invasion, over 60,000 women serve in the Armed Forces of Ukraine (AFU) – making up around 15% of total servicemembers – including more than 5,000 in frontline positions. Women have become integral military personnel alongside their male peers, working as medics, technicians, reconnaissance soldiers, and artillerists, among many other roles. However, women in the military face not only gender-based struggles and discrimination within the ranks but also a lack of adequate provisions and care when temporarily or permanently leaving service. As Ukraine develops and strengthens its reintegration and support strategy for veterans, the sizeable and growing number of female servicemembers needs special consideration.
The first annual 'Out of War' conference, entitled 'Global Insights to Support Strategies for the Reintegration of Ukraine's Frontline Returnees' and hosted by Dr Erin McFee's Trust After Betrayal project at the LSE Department of Geography and Environment on 13–14 October 2023, placed special emphasis on the issue of gender in this policy field. The inaugural panel, which aimed to inform participants on the current reintegration context in Ukraine, featured two female representatives: former volunteer military paramedic Ganna Demydenko of the Ukranian Women Veteran Movement and Yuliia Kirillova, a veteran who enlisted after Russia's annexation of Crimea in 2014 and now works for the Ukrainian Veterans Foundation. Moreover, in the 'Women of War' breakout room session, the conference facilitated discussions on comparative gender-based reintegration challenges and approaches between academics, practitioners and former armed actors from various regional contexts, including Ukraine, Mexico, Afghanistan and Northern Ireland.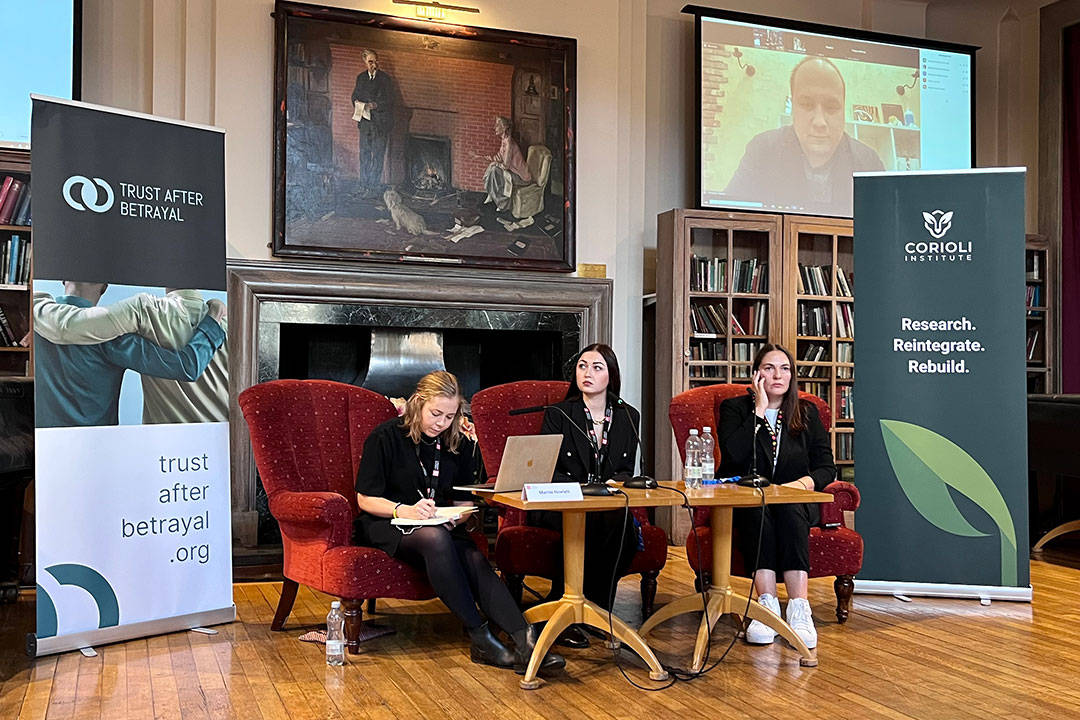 The inaugural panel featuring Ganna Demydenko (right); Yuliia Kirillova (middle); and Kostiantyn Tatarkin (on Zoom), representative of IREX, veteran Airmobile Brigade Airborne Assault Forces lieutenant and UAV operator of the National Police Special Operations Forces. The conversation was moderated by Marnie Howlett from the University of Oxford (left). Image courtesy of LSE
While attitudes toward female service members in Ukrainian society are shifting and progress has been made in the recognition and equal treatment of Ukraine's female defenders within the Ministry of Veterans Affairs (MoVA) and the Ministry of Defence (MoD), numerous problems persist relating to the public perception of and needs-oriented support for women veterans.
The social ruptures and reconfigurations of the war will increase the role and importance of female frontline returnees in community leadership
It was highlighted repeatedly during the conference that, although things are changing, many women who have served in the AFU face stereotypes in the military and society, alongside condescending treatment for overstepping traditional gender roles. Stereotypes include being characterised as a 'bad mother', or the notion of a woman joining the military 'in pursuit of a husband'. This can contribute to an additional layer of social exclusion within their communities and discrimination when searching for a job, compounding the obstacles and stigmas they already face as veterans, which are rooted in – for instance – misconceptions about mental health conditions. Furthermore, the visibility of their sacrifice is often undermined. For example, while many joined the hostilities in Donbas in volunteer battalions after 2014, Ukrainian law didn't allow women to be assigned to combat positions until 2018, resulting in their being inaccurately denominated as cooks, cleaners or accountants at the time and subsequently limiting their access to essential veterans' benefits.
In addition, existing provisions for veterans frequently fail to address gender-specific needs such as appropriate mental and physical health care. Besides the strain of war and combat, a considerable number of women returning from the frontlines have to cope with the loss of male relatives, the simultaneous displacement of their families, and the resulting psychosocial and economic hardship. Moreover, female soldiers are disproportionately exposed to the perpetration and threat of service-related sexual violence – for instance, when captured and held as prisoners of war. On top of this, existing counselling, support, and training opportunities typically fall short of accommodating childcare responsibilities, which are still largely shouldered by women.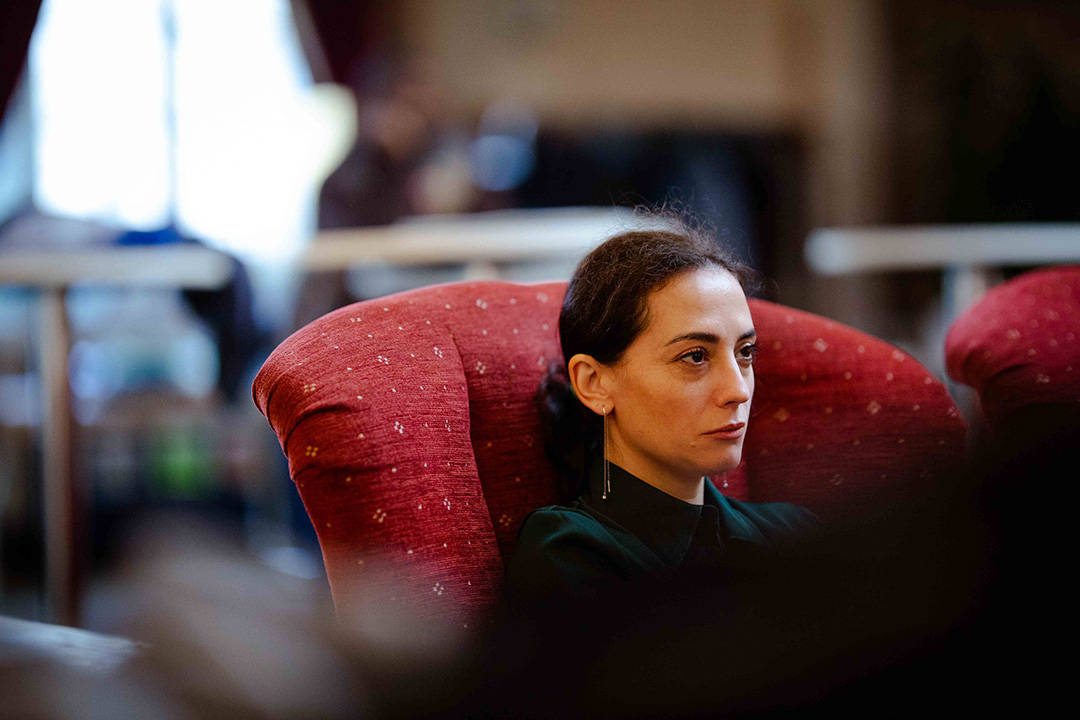 Conference participant Halyna Morar, director of the Pislya Sluzby ('After Service') Foundation, who served in combat in 2014 as part of the National Guard of Ukraine's Serhiy Kulchytskyi volunteer battalion and in the defence of Kyiv in 2022. Image courtesy of LSE
Ukraine's 2020 National Action Plan acknowledged the need to scale up self-employment and entrepreneurship opportunities for female veterans. The plan also committed to providing female servicemembers with anthropometrically fitted uniforms, equipment, boots and body armour to save lives and prevent serious injury. Additionally, in 2022, the government adopted a national strategy on equality for women and men, which includes equitable access to housing and financial safety nets for male and female veterans. In the realm of political representation, Yuliia Laputina is currently the third woman to hold the office of Minister of Veterans Affairs. In addition, Ukraine has had several female deputy defence ministers since 2003, with the current incumbents being Kateryna Chernogorenko (responsible for digitalisation) and Natalia Kalmykova (responsible for social and medical protection). Notably, images of female soldiers are now prominently featured in the MoD's and MoVA's public relations and social media presence. The trend of increasing recognition and visibility of women in the national defence effort is also reflected in the renaming of the 'Day of Male and Female Defenders of Ukraine' (День захисників і захисниць України) on 1 October to include both the male and female forms of the word 'defender'.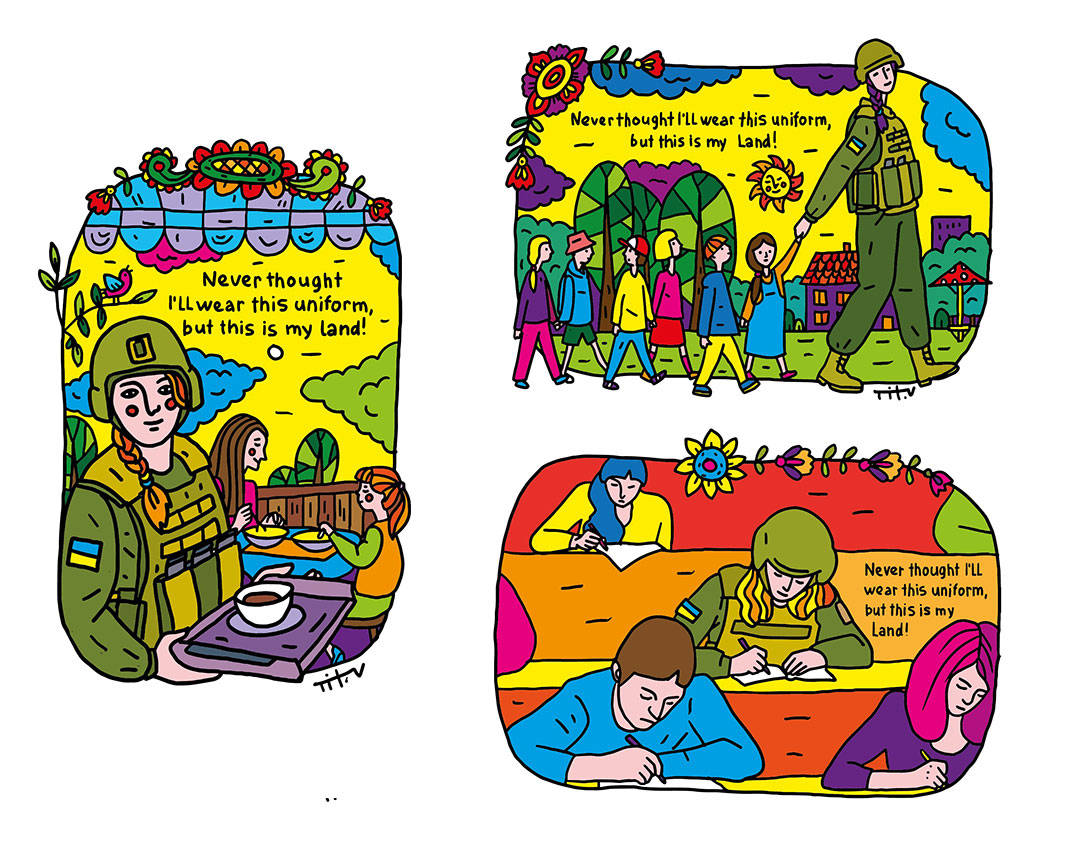 Depictions of female AFU soldiers by Ukrainian artist Nikita Titov for a social advertising campaign by the Ukrainian Veterans Foundation. Reproduced by permission
Despite these developments, the professionals involved in supporting Ukraine's veterans participating in the conference emphasised that the MoVA and MoD, among other departments, still lack the resources and holistic, comprehensive implementation approaches needed to comply with set provisions for reintegrating servicemembers more broadly, and women in particular. This includes suboptimal service delivery coordination between national and local government and the prevalence of significant territorial inequalities. As a result, many of the essential material, psychological and economic necessities are still sustained by dedicated and proactive civil society organisations working in this field, with the help of public fundraising. The NGOs Army Women Now and Ukrainian Women Veteran Movement, for instance, have launched shops to produce basic military clothing tailored for women, offering employment opportunities for female veterans in the process. Moreover, initiatives like this have opened urgently needed spaces for experience exchanges and peer-to-peer assistance for women returning from the frontlines. The Ukrainian Veterans Foundation, as a participatory organisation within the MoVA working in close consultation with veterans, demonstrates how the government aims to incorporate the rigour and innovativeness of civil society into its own operations.
Providing all Ukrainian veterans – including those with disabilities and those from remote, rural backgrounds – with the support and dignified livelihoods they deserve, while also applying a gender-sensitive lens to their challenges and individual situations, is a complex endeavour that requires refined national policy guidance and coordination, as well as continued international attention and funding. As numerous accounts from our Ukrainian partners at the conference have stressed, the social ruptures and reconfigurations of the protracted war, including the service-related absence of men, will increase the role and importance of female frontline returnees in community leadership. The skills they have acquired during service are valuable assets that will render them indispensable agents in the material and social reconstruction of their homeland – both in the shadow of the ongoing war and after the victory over the Russian invaders. One of many crucial takeaways from the first 'Out of War' conference is the shared national and global responsibility to promote and seize the grassroots potential embodied in the thousands of veteranky – Ukraine's brave female defenders – alongside that of their male counterparts.
The views expressed in this Commentary are the author's, and do not represent those of RUSI or any other institution.
Have an idea for a Commentary you'd like to write for us? Send a short pitch to commentaries@rusi.org and we'll get back to you if it fits into our research interests. Full guidelines for contributors can be found here.
---
---
Footnotes